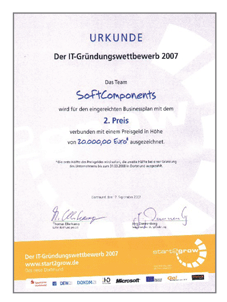 Welcome at SoftComponents.com - the web site of Thomas Kloeker - System Programming.
Thomas Kloeker is working as a freelance IT consultant / system programmer with focus on embedded software / embedded systems since 1996 and has gained reputation as a reliable problem solver with his renowned clients especially in the automotive area also and particularly in difficult situations.
Thomas Kloeker has a special interest in the improvement of development structures and of in order to achieve optimized reusability - an approach still followed too less especially in the embedded software area, although it offers enormous potential for increasing development efficiency.
For innovative ideas in the domain the team of SoftComponents was rewarded with the second price of the Start2Grow-IT-Startup-Competition in Dortmund - you will find more on these ideas as well as on the background of Thomas Kloeker on the following internet pages.
We would be pleased to support your project too with our special know how as well as with development tools free of charge for you in order to gain efficiency through better reuse of your software - simply contact us through this.